SHOP
Welcome to the Shopping page!  Occasionally we will have products that you may receive with a donation to K9 Partners.  When products are available, we will give you that information here.
Shirts
Here are our brand new WCK9 Partners shirts!  You can get one for a donation of $20 for a Short Sleeve or $25 for a Long Sleeve.  We have Green and Tan in Men's sizes and Light Blue and Turquoise in Women's sizes.  Please go to our link on our Facebook page to make your donation.  ***PLEASE FOLLOW THE DIRECTIONS CAREFULLY**** so that we may get your shirt to you!  They will be available for pickup each Saturday after you have ordered, and any time after that, at Consign Furniture Reno  6865 Sierra Center Parkway, Reno  (775)824-0222 Hours: 9:00am to 8:00pm Mon-Sat 10:00am to 5:00pm Sunday. You can also order a shirt to be shipped to you for an extra $5.00 to cover our S/H.  Please follow the directions.
https://www.facebook.com/149855912171642/shop/all_products?ref_surface=mini_shop_storefront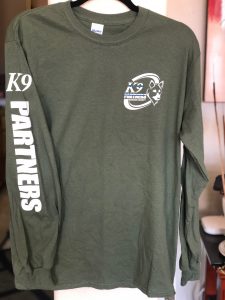 Calendars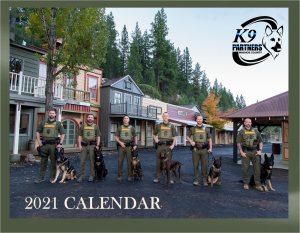 OK Folks!! Here they are! Fresh off the presses, our brand new 2021 WCK9 calendars!! They are now available locally at these participating retailers for your donation of $20:
Reno Guns & Range
2325 Market Street, Reno
(775)826-2626
Hours 9:00am-7:00pm
and 9:00-5:00 Sundays
Consign Furniture Reno-Lake Tahoe
6865 Sierra Center Parkway, Reno
(775)824-0222
Hours: 9:00am to 8:00pm Mon-Sat
10:00am to 5:00pm Sunday
BBM Lounge
50 South Virginia St Suite 8, Reno
(775)787-6800
Hours: 8:00am-6:00pm M-F
VESy Lab
5301 Longley Lane, Bldg A, Suite 7, Reno
(775)284-3482
Sam's Sparkle Shop
1825 Frazer Avenue, Sparks
(775)358-3393
Hours:8:00am-5:00pm Monday-Friday
TMJ Therapy and Sleep Center of Nevada
401 W. Peckham Lane, Reno
(775)825-7200
Hours: 8am-5pm Mon-Wed
8am-1pm Thurs
closed for lunch 12pm-1pm
Scheels
1200 Scheels Dr
Sparks, NV
(775) 331-2700
Legends Shopping Center
Sierra Jewelry & Crystal
1274 E Plumb Ln Ste D
Reno
https://sierrajewelryandcrystals.com/
Hours 10am-7:00pm Monday thru Friday
Saturday 10am-6:00pm
(775)826-5000
Calendars are also available on our Facebook page at the SHOP section: https://www.facebook.com/commerce/products/2494935387265133?ref=page_home_tab&referral_code=page_shop_card&view_public_for=149855912171642
Please follow the instructions carefully – being sure to click on the "share your address" button and noting "calendar" in the note section – so that we may get your calendar right out to you without delay! Please note that calendars ordered online are a donation of $25 rather than $20, so that we may cover our shipping and handling expenses. Additional calendars ship for free.
Calendars
New 2021 Calendars will soon be available for your donation of $20 or more.  We will have calendars  available at the locations listed below and online at or Facebook page.  Stay tuned for dates and new locations.  Thank you so much for all of your support!
   You can soon get a K9 Partners Calendars online from our facebook page!!  Please go to  https://www.facebook.com/WCK9partners/  for more information!
   Coming soon!   Hot off the presses, our new 2021 K9 Calendars!!  We will have 2021 calendars around town at local businesses, and online on our facebook page!  The online price is a $25 donation for the calendar and to cover our shipping and handling costs.  You may get you WCK9 Partners K9 Calendars in person, soon, for a $20 donation to K9 Partners at these participating locations:
Consign Furniture Reno
6865 Sierra Center Pkwy
Reno, NV 89511
(775) 824-0222
Scheels (Sparks NV)
at Legends
1200 Scheels Dr
Sparks, Nevada 89434